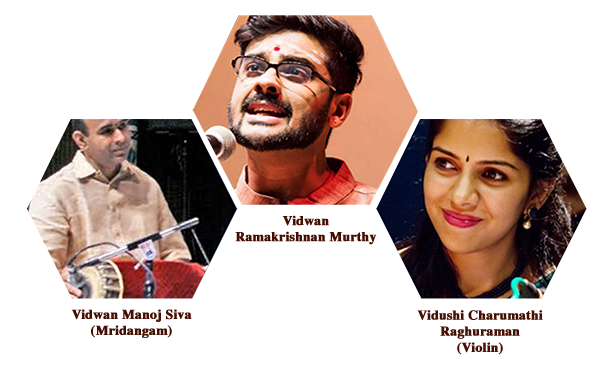 GRAND CARNATIC MUSICAL CONCERT
FRIDAY MAY 11th, 2018 @ 7 p.m.
Ragsdale Center, St.Edwards University
3001 S. Congress Avenue, Austin, TX 78704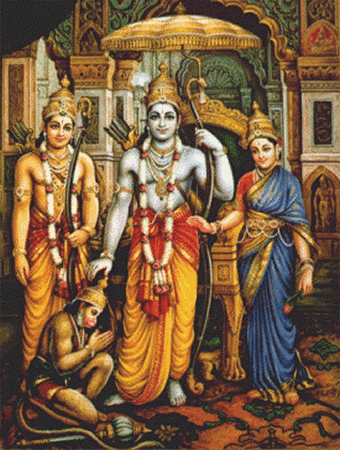 Ramanavami 2018
(MUSICAL RAMANAVAMI UTSAVAM)
SATURDAY, APRIL 28th, 2018. 2PM-8PM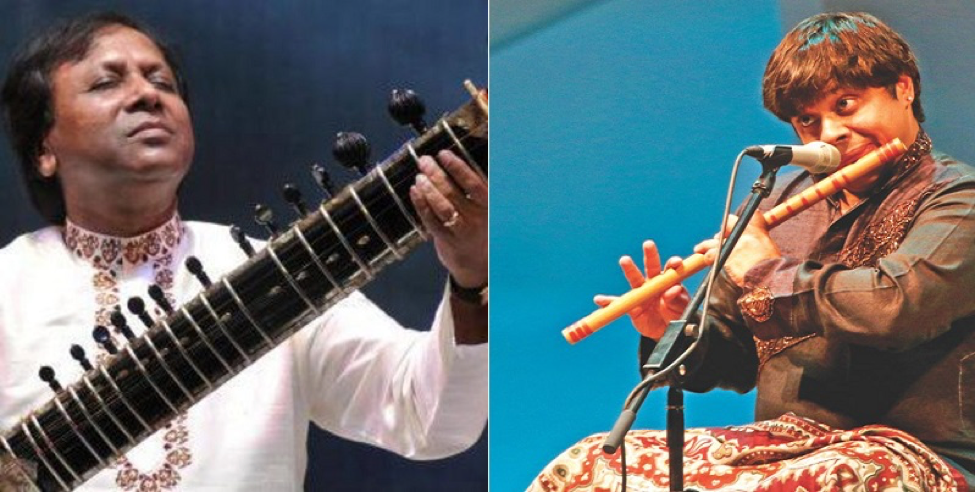 MERGING OF MUSICAL BOUNDARIES: MAESTROS MAGICAL FLUTE AND LUTE CONCERT
Ustad Shahid Parvez Khan & Shashank Subramanyan

The Grammy nominated Shashank is a senior flautist in the field of Carnatic Music. The BBC World TV did a documentary on Shashank titled Destination Music. He got the Grammy Nomination for the album Floating Point with John McLaughlin - 2009.

Ustad Shahid Parvez Khan descends from six generations of sitarists. In the words of the The Hindu, he is "Indian music personified". He is one of the leading exponents of the Etawah Gharana.

SATURDAY, APRIL 21, 2018 , 6.30 P.M
Blanton Auditorium, 220 E.Martin Luther King Jr Blvd, Austin, Tx, 78701
(The Edgar A. Smith bldg. which houses Blanton auditorium is right across Bullock History museum. Parking is free after 5p.m. in the parking lot opposite to the museum)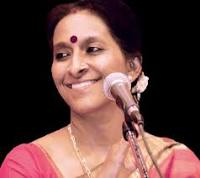 OSCAR NOMINEE BOMBAY JAYASRI
SUNDAY, APRIL 1 2018 @ 4.30 P.M.
Gloria Delagado Performing Arts center, St. Michael's Catholic Academy, 3000 Barton Creek Boulevard, Austin

Jayasri video:
https://www.youtube.com/watch?v=Z0HGnY015-k
https://www.youtube.com/watch?v=vT5Q_0DJT0A

OUTREACH EVENTS:
India Fine Arts has been making a conscious and concerted effort to serve the needs of the underserved communities

The art of "Touch and Feel' technique is widely used in India to teach the blind and visually impaired persons to teach dancing. The blind dancer follows the dance movements by touching and feeling the hands and legs of the dancer and then dance to the lyrics. Several workshops have been done for the Texas School for the blind and visually impaired to teach them to do a ballet. A blind dancing group was sponsored from Bangalore to do a ballet for them.

The "raga' based Indian music has some therapeutic effects to alleviate depression, stress and other physical and mental ailments. This musical therapy is particularly important for seniors to lift them from loneliness and depression and create mental happiness. Several workshops have been done at Austin Groups for the Elderly to teach yoga based exercises with musical therapy.

IFA is also promoting radio music shows for the emotionally challenged people like Breaking the Boundaries, and Motional music.